The fashion world is enjoying the anonymous posts coming from Fuck Yeak Menswear, where each daily post "responds" to a fashion photograph with hilarious, egotistical doggerel that reminds this reader of nothing so much as a clothes-obsessed rap star working on the lyrics to B-sides that will never see the light of day.
The blog works as both a pitch-perfect parody of the high fashion crowd, and as a larger-than-life comic sketch of the Kanye West metrosexual/gangsta mentality.
Here's a sample: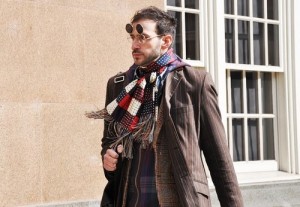 Welcome to F/W 10.

Did you just get chills?

Frostbit fingertips trembling on your trackpad?

My bad.

Me and Jacky Frost been lamping on the street.

Crystallizing windows.

Talkin' winter essentials.

My favorite coat back in the day was a J Press Presidential.

Talkin' cold weather tactics.

Best protect ya neck.

I only fuck with exclusive shit.
Pomposity-as-poetry. Perfectly fabulous fashion flarf.
Enjoy.