By: Justin Quinn
The main transformations in American literature over the last thirty years have had a strong effect on poetry as well: the consolidation of African-American writers, the emergence of Native-American, Asian-American and Chicano writers, as well as gay writers, to name but a few. Most of this falls under the rubric of "multiculturalism", a phenomenon which in its criticism moves in two directions: first, to de-centralize the literature of mainly white male writers, their literary techniques, and political ideology; second, to promote the idea of many "centers", or mainstreams, each with a different ethnic or gender base, in order to empower those people who have previously been marginalised by social and cultural hegemonies. Connected with the decorums of post-structuralism, this has led to the dismantling of the totalizing narratives of literary history and their replacement with a multiplicity of smaller narratives that fully respect the internal cultural dynamics of different ethnic groups, i.e., we should not dismiss certain works merely because they do not adhere to our notions of literature, but we should examine the tradition of the source group and judge by those standards.
This suggests there is now comparative literary studies within the study of American literature in general, but the reality is otherwise. In practice, there is little or no criticism that is able to relate persuasively any strand of multicultural literature to the language and forms of its putative ethnic tradition; rather, the work is praised for certain thematic characteristics that it shares with other ethnically unrelated multicultural literary works. One of the consequences of these developments is that there seem to be no criteria for critical discrimination within the enclosure of multicultural literature, even while those writers outside its pale are summarily dismissed (John Updike being the white male target of choice). There are two possible reasons for this. First, the type of critical judgement that would discriminate between works might be felt to be anathema to the multicultural project of recognition for all. Second, in some cases, especially where Native American literature is concerned, the literary critics prosecuting these agendas do not appear to have a sure grasp of the cultural traditions of the source ethnicities (they do not speak the languages, they have not lived among the people), so that their judgements about the continuities between older oral traditions and present-day literary production are not firmly grounded. It might be countered that often the writers themselves do not speak the language and have perhaps only lived with other members of their ethnic group in their childhood, but in what way does it make sense then to say that these writers belong to a separate culture or ethnic group? And how can they claim to be extending a culture whose language they do not know? It makes more sense in such cases to see the writers as belonging to a more widespread phenomenon in Western countries which has people searching through older religions for alternatives to Enlightenment rationality and modern technology, and not as recovering their ethnicity.[private]
This raises the question of what constitutes ethnic difference. It should be noted that the ideas of ethnic difference that are insisted upon in the U.S. at the moment would not pass muster in other parts of the world. The ethnicity of a woman who is one quarter Choctaw living in Chicago and whose only language is English is very different from an ethnic Hungarian woman living in Slovakia whose children go to a school where subjects are taught through Hungarian and whose traditions, songs and ceremonies remain those of Hungary, because she shares these values with her immediate community. As Nathan Glazer argues in We Are All Multiculturalists Now (1997), it is only in the case of African Americans that it is accurate to speak of a rejection of the dominant American culture and polity, and therefore of the existence of a separate culture (his indicator for the failure of assimilation is intermarriage). Also, if a certain number of people communicate more intensively among themselves than they do with others, then over time it becomes natural to see them as a separate group with their own public discourse. Integral to this idea of the direction of communication is the question of audience: if the Hungarian woman writes poems or songs, she is unlikely to approach her Slovak neighbors for a response. Of course, language plays a very strong role in the maintenance of ethnic difference, but it is not essential. In the U.S. now that most ethnic groups have abandoned their language and are rapidly assimilating through intermarriage, it is difficult to talk of a particular ethnic audience, other than African American. Once cultural production is not directed within a particular group but outwards, what is left is the performance of an ethnicity that has been lost long before. Nothing saps an indigenous culture more than having to perform it for outsiders more than for itself. Measuring such a transition in the direction of cultural production with any exactitude is difficult, but in looking at the poetry produced under the rubric of multiculturalism, it is hard not to suspect that this is happening in America at the moment.
The showcase of multicultural literature is Paul Lauter's Heath Anthology of American Literature (1990). It proposes a radical re-reading of the American canon in which, for instance, Harriet Prescott Spofford is allotted more space than Ernest Hemingway, Sterling Brown more than Wallace Stevens, and Charles W. Chesnutt more than William Faulkner. Its contemporary poetry section is just as radical in its choices and omissions: although the youngest poet included was born in 1955, there is no white male poet born after 1930. The only two white women included after this date, with the exception of Sylvia Plath, Marge Piercy and Carolyn Forché have engaged the editors' concerns with gender and politics in obvious ways. As for the poetry that is included, its stylistic range is limited: apart from the historical collage of Simon Ortiz's From Sand Creek (1981) and occasionally a breathless surrealism reminiscent of the Beats, there are two predominant modes.
The first is largely autobiographical anecdote in unstanzaic free-verse whose lines contain between two and five feet. It is a style that has gained widespread currency in Britain, Ireland and the U.S. over the last 25 years or so, the most likely reason being the ubiquity of writing workshops in many social institutions (libraries, universities, school, and, more recently in an interesting turn, in legal firms and prisons). Relations between lovers and family members are frequently dealt with, as are relations to nature. The tone of this work tends overwhelmingly towards the elegiac. The structure of the poem usually follows the same pattern: a particular event is narrated, and then by way of conclusion attention focuses on one detail or image. There is an effort to avoid a concluding general statement, and leave the reader suspended in wonder and awe at the end as, presumably, the poet was: instead of a curt closure, there is a kind of shimmer and fade. Whereas Keats ended his "Ode on a Grecian Urn" with a metaphysical equation (Beauty = Truth, Truth = Beauty), perhaps the best example of what is called poetic closure, the authors of this type of poem shy away from abstract summation. This owes much to Confessionalism and, more particularly, the ambivalent ending of a poem like Robert Lowell's "Skunk Hour".
For the poets of multiculturalism this personal mode is often made political through stories that recount the difficulties experienced in America by their respective families. The poems do not uniformly harangue the political and social structures of the adopted country, but rather recount stories of migration and the hardships it involved. Below I quote from Janice Mirikitani's "For My Father":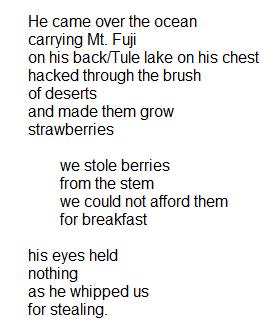 Many Japanese immigrants to America worked in strawberry farming on the West Coast of America, and the detailing here, although the immediate scope is familial, evokes the collective fate of Asian-Americans. The children steal the strawberries because the family is poor, and ironically it is for precisely the same reason that the father beats them, as he wishes to improve their standard of living. The emptiness in his eyes is the emptiness of economic imperative. Stylistically the poem conforms to the period style I outlined above; I would only add that the calm tone is employed to set off the general sense of injustices suffered (that of the children at the hands of the father, but also of the father in the grip of poverty). A further important feature is the declaration of connection with the source ethnicity in the first lines.
In "Braly Street", Gary Soto visits the neighborhood in the San Joaquin Valley where he was brought up. Once home to many different immigrant groups, it is now an industrialized area ("The Molinas, Morenos, / The Japanese families / Are gone"). The poet's memories of his uncle and father focus the wider sense of loss:
In '57 I sat
On the porch, salting
Slugs that came out
After the rain,
While inside my uncle
Weakened with cancer
And the blurred vision of his hands
Darkening to earth.
In '58 I knelt
Before my father
Whose spine was pulled loose.
Before his face still
Growing a chin of hair,
Before the procession
Of stitches behind
His neck, I knelt
And did not understand.
The ravages of illness come to stand for the erasure of a whole immigrant culture from the area. The poet feels sadness, not anger, at the loss. In Mirikitani's poem the enjambments were more abrupt, which gave it a jerky, staccato quality. Soto's lineation for the most part divides the sentences into natural speech units, and thus his story moves with more anecdotal fluency. But in terms of tone, voice, theme and free-verse style there is little separating these poems. Anybody can be poor, anyone can die from cancer, but here such suffering is raised to iconic status for generations of immigrants. Such a use of emblematic story is a stock literary strategy. However, what it suggests here is that these poets' work, one Chicano, the other Japanese–American, is conditioned, thematically and stylistically, more by their adopted culture than their source ethnicity.
My larger point is that the same is true of most, if not all, of the multicultural poets presented by the Heath. Brief passages from two poets' work are clearly insufficient and it is impossible to close-read the whole poetry selection. I provide two other examples. The first is from Michael Harper's "Camp Story":
All across America the refugees
find homes in these camps
and are made to eat
at a table of liberty
you could have had
if you could not spell
or count, or keep time.
I see you, silent, wordfully
talking to my brother, Jonathan,
as he labors on the chromatic
respirator; you kiss his brown
temple where his helmet left
a slight depression
near a neat line of stitches
at the back of his skull.
As far as it is possible to gather from Harper's telegraphic style, the addressee worked hard in a refugee camp—as employee and not refugee. He approaches the poet's brother who has, it seems, been injured in action. (And it would seem that he is a member of the extended family.) The balance of blame against what might be called the Establishment is clear: there is the irony of the refugees "made to eat / at a table of liberty", and also there is the vague sense of injustice at the fate of the addressee having to work hard to "save the family / homestead from the banks of the river". These are consolidated by the family's loss of one of its children, as if to say that although African Americans, as citizens of the United States, are willing to sacrifice their family members for defense of the country, they are repaid with ersatz liberty. Stylistically, I can see nothing that differentiates this from Soto. The final example is from Garrett Hongo's "Off from Swing Shift":
His left hand reaches out,
flicks on the Sony transistor
we bought for his birthday
when I was fifteen.
The right ferries in the earphone,
a small, flesh-colored star,
like a tiny miracle of hearing,
and fits into place.
I see him plot black constellations
of figures and calculations
on the magazine's margins,
alternately squint and frown
as he fingers the knob of the tuner
searching for the one band
that will call out today's results.
Further on, Hongo remarks how this man received injuries in World War II when fighting for the Allies. He listens to the radio for a big win to save him from his fate, but Hongo forcefully steers the poem's conclusion towards elegy: "But no one calls / the horse's name, no one / says Shackles, Rebate, or Pouring Rain. / No one speaks a word". Whether Hongo, who as a critic is healthily wary of multicultural discourse, is attempting here to convey a sense of injustice suffered by Asian-Americans in the U.S. or not, within the multicultural context of the Heath there is very little range for interpretation. And once again, in stylistic terms, Hongo's poem is identical to Soto's and Harper's (right down to the tic of "I see him […]", which Harper had also).
The second predominant mode is more public in its voicing, and is to be found in African-American, Native-American, and Latino poetry.[1] It owes much to the poetic rhetoric of the Black Arts movement, and before that to the Beats. It lends itself well to public performance, and thus is often more trenchant in its judgements and assertions. Indeed, assertion of ethnic origins is its dominant theme. I quote from Wendy Rose's "Story Keeper":
We are that kind of thing
that pushes away
the very song
keeping us alive
so the stories have been strong
and tell themselves
to this very day,
with or without us
it no longer matters.
The flower merges with the mud,
songs are hammered onto spirits
and spirits onto people;
every song is danced out loud
for we are the spirits,
we are the people,
descended from the ones
who circled the underworld
and return to circle again.
I feel the stories
rattle under my hand
like sun-dried greasy
gambling bones.
These are the concluding 21 lines of a poem with 101 lines: the ending is assertive, and declamatory. What it asserts is the continuity of ethnic identity, in Rose's case of the Hopi tribe. The conclusion moves away from a general statement like "we are the people" (Rose was not to know that a beverage company would later have Michael Jackson sing just that to promote its product), to the realm of personal perception, as though to physically validate the abstract awareness which came before. The gambling bones, as ethnic prop, underwrite the authenticity of the realization. Hongo himself places this kind of work profitably within the context of post-colonialism thus:
Post-colonial critics have identified this approach, this culturally nationalistic approach, as an aftereffect of the colonial process in which the new political/cultural regime, after overturn of the colonial power, reproduces the structure of colonial institutions and practices within colonized societies attempting de-colonization under the sign of the revolutionary, the organic, and the authentic. What is deemed authentic in these configurations, therefore, are provisional political constructions of a society attempting to redefine itself with cultural referents recognizably antagonistic to the former colonial powers or ruling set of values. This society creates a centrism, an essentialism along different alignments, reproducing its own version of the marginal and Other in a process that, though revolutionary, is nevertheless hegemonic.
In her criticism, Rose's hegemonic approach takes the form of a patronizing tone which replicates that used by some scholars when discussing Native American literature. Her essay, "The Itch", begins with the sentence: "A curious phenomenon that Native scholars in the United States have long noted and regarded as pathological is the tendency for European immigrants to take off their ancestral heritage as if it were no more than a sweater and assume the new identity 'American'".
In its formal aspects, "Story Keeper" is identical to the poems quoted previously: it is written in free-verse paragraphs with lines varying between two and four stresses. The tone is more public, the reliance on autobiography greatly lessened, but it is stylistically identical to Mirikitani, Soto, Harper, and Hongo. The lineation accommodates natural phrasing (i.e., no line end with an article), but the short lines are used for the most part to break up the usual conversational flow of anecdote or proclamation, and give the poem a more elegiac or ceremonial pace. Like the previous poems, the lines are arranged into verse-paragraphs in the same way that prose is. Strong indicatives appear frequently. The stylistic similarity of these poems should give pause for thought. The source ethnicities being celebrated here are Japanese, Mexican, African, Japanese–Hawaiian, Oneida, and Hopi, and most of these poets presume that their particular ethnic background makes them different. Why then do they all sound the same? The answer seems to lie in the fact that their work is more conditioned by the target culture than the source ethnicity; or, in other words, it is the discourse of multiculturalism that is the major influence on their chosen mode of poetic expression.
What context do the Heath editors provide for this work? Linda Wagner-Martin, in her introduction to the period 1945 to the present in which all of the above poets fall, comments:
To choose to read a novel by a Native American writer, and thereby learn about the frustrations of living within that culture today, becomes a political act. Similarly, for a reader to withdraw—to read only eighteenth- or nineteenth-century texts, or only literature about certain traditional themes—is a different kind of political choice. The same literacy that could open minds through broadening and new information can also be used to narrow the reader's understanding.
This is problematic in several respects. On the less significant level, which eighteenth- and nineteenth century texts does she mean? Obviously something like Mansfield Park and not Poems on Various Subjects, Religious and Moral. On a more important level it excludes the possibility that some people might be sympathetic to Native Americans and read about their plight in books and newspapers, but not appreciate the literature.
But above all, the passage presents a crude model of the relations between people, literature and politics: you read a novel about a particular group's suffering, and—the implication is—you act politically on that knowledge. Without doubt, things can work this neatly on occasion, but reading literature teaches one to attend to the tone of a speech's delivery as well as the stylistic resources it employs as clues to the character and motivations of the speaker. When we form political opinions we rarely make fully informed judgements, rather it is a mixture of some information and exactly the type of intuitions that the "traditional" study of literature depends upon. Developing the perspicacity to appreciate the subject positions in Mansfield Park can provide healthy checks to the formation of political prejudice.
Wagner-Martin then goes on to face critics of this literature, saying they object to its subject matter as "inappropriate" and its "techniques so experimental as to be unreadable—or, conversely, so simple as to be unliterary". Yet the Heath's selection of poetry for the period of 1970 to the present contains nothing in the least experimental. As for being "unliterary", on the contrary it is too literary, too in thrall to the present poetic period style as I pointed out above. She then remarks that it is something of a critical tradition to decry contemporary work in this way "because many readers feel intellectually more comfortable reading fiction and poetry that are distant, even remote, from their own life experience". It is true that many academics abrogate their responsibility to the republic of letters by avoiding the contemporary, but the main criterion for Wagner-Martin's promotion of multicultural work (leaving aside the misleading comments about its "technical variety") is that it portrays the plight of people now. Once again, if interested in that plight, it would seem wiser to seek documentary sources and talk to people concerned than to rely on literature in the way she suggests.
We can come closer to the critical strategies employed to advocate multicultural poetry by focusing on the defense of one particular strand of it, Native American poetry. Lucy Maddox, in her article on the subject in The Columbia History of American Poetry (1993) begins by saying that "[t]he appearance of a discrete chapter on Native American poetry in a volume devoted to a survey of poetry in the United States is an event worth remarking". It has taken this long to be noticed, she argues, because academics have been reluctant to recognize literature that "has deliberately foregrounded [] specific racial or ethnic identities". She also points to the fact that only recently has a "critical mass" of writings been reached which makes it appear on the academic radar. She goes on to note that "[t]he cultural traditions in which Native American poetry is still grounded are the oldest indigenous traditions in North America; at the same time, Native American poetry itself is, in the strictest sense, a twentieth-century phenomenon". Here we come to perhaps the most important and most difficult claim to assess. Maddox's subsequent discussion makes it clear that she is fully aware that the switch from Native American languages to English and the move to the production of poetry as opposed to songs and chants that are integral parts of tribal ceremonies represent a break with tradition, but she wishes to claim that it is a break that re-energizes and extends that tradition, rather than abandons it. In this she is in accord with the writers themselves. It is impossible to decide ultimately, especially writing from Europe, how far these writers are performing their ethnicity for outside readers, as this presumes the idea of some testable authenticity. (It is their children's generation of writers that will determine this.) However, we can make judgements based on literary style and see how their work fits into contemporary poetry in English.
At this point Maddox heads us off at the pass. She says that the work of these poets emerges out of oral traditions, while our separation of genres is to a degree the result of print culture. The implication is that we cannot bring the same aesthetic criteria to judge this work as we would to a poem by James Merrill or Ted Hughes. It would then be fair to expect from Maddox detailed examples of the continuities between the oral traditions and contemporary literary production, but in this we are disappointed. She makes no comment whatsoever on the formal or stylistic aspects of the poetry she is surveying other than to say that the poems "are meant to affirm and extend" Native American cultural traditions. Another maneuver favored by other critics is to say something like: X or Y's poetry is reminiscent of the "repetitions of the Indian ceremonial drum". Similarly, Robin Riley Fast in The Heart as Drum: Continuance and Resistance in American Indian Poetry (1999) is given to statements like the following: "Even paved over with cement, as in 'Washyuma Motor Hotel' […], the spirits of the ancient people survive in the land, their voices powerful and empowering", with no information given as to the particular characteristics of the Acoma mythology which these "ancient people" lived by. And there is Robert Gish's spirited defense of Ray Young Bear's poetry:
This is not to say, as some have suggested, that Young Bear's poems just do not make sense, do not work. They mean. They work. They mean and work magically. And the magic is moving and elemental. Young Bear's poetry moves the reader, quite simply, as close as one can come to being there with the elders, being Mesquakie, being Native American.
My point might be countered that it is unfair to expect a New-Critical close-reading analysis when it is precisely that type of approach to literature that is being rejected. But what is fair to expect, then, are some examples of exactly how the older Native American oral traditions are extended by the new poetry. Which Indian drum? Which set of rhythms? Which ceremonies? Gish's article, which demonstrates no knowledge of Mesquakie culture, appears in Andrew Wiget's Handbook of Native American Literature (1996), and is typical of the other articles which deal with contemporary Native American poetry: in love with the mystique of Native America, but hazy on the tribal details. Time and again, critics well disposed to this literature bandy about platitudes at the very moment when their professional duty is to provide detailed analysis and extensive knowledge of particular tribal cultures. Beyond remarking on its performative aspect, Maddox does not inform us about any other of its devices or strategies and how they might influence the contemporary poetic production of Native-American poets. Her position, and that of the other critics, amounts to the critical smokescreen of special pleading, for once we do examine it in the ways we have learnt to read "Anglo" poets, its stylistic conventionality is fully apparent.
At play here is the larger idea of pan-tribalism as a movement that would unite Native American peoples. Joseph Bruchac remarks that
The pan-tribalism which has long been sought by visionary Indians (from Metacomet and Tecumtha to Leonard Peltier and Vine Deloria, Jr.) characterizes much of contemporary Native American writing. It has grown stronger over the past two decades and will continue to grow in strength in the decades to come. At the same time, through the words of Native writers, the specific tribal realities of the many nations of Native America will come into clearer and clearer focus.
To judge by the criticism now being produced by scholars of the subject, those "specific tribal realities" are paid only the lip-service of noting the tribal affiliation in parentheses after the poet's name. For all the mention of various tribes, one receives no clear impression through the Heath Anthology, or Duane Niatum's Harper's Anthology of 20th Century Native American Poetry (1988), or the surveys of Maddox, Fast and Wiget concerning how the cultures and values of these tribes might differ. Reading through the Heath one is immediately struck by the fact that the poems for the most part thematically reflect the critical concerns of multiculturalism: these poems are concerned with the loss of ethnic origins, or they celebrate the attempt to regain them, while the exact characteristics of those origins remain suspiciously generic; also endemic is the condemnation of white culture. On the face of it, this might seem unobjectionable, but when we consider that the aim of multicultural criticism is to recognize the irreducible differences between various cultures, then we realize how abject its failure is in the field of poetry. To say that the poets collude with the critics in this is to put it too strongly, but there does seem to be a common project which in the final analysis is detrimental to the literature produced.
Certainly, one would expect commonalities given the fact that the historical experience of Native Americans over the last two centuries has been so uniformly awful, but one would also expect that the poets of tribes which have lived at far-flung places on the American continent for many centuries and not shared a public discourse, let alone a common language, might have different things to say. It seems they don't, and the critics are satisfied. In this respect, the gaze of multiculturalism (wielded by the poets as much as the critics) is homogenizing and, in a move that replicates on the cultural level what happened on the criminal level in the nineteenth century, identities are erased by the title "Native American". If a lexicographer had to choose a set of meanings for this label based on usage in critical texts, he or she might suggest "in touch with the earth", "mythopoetic" and, above all, "victimized". You'd have a better chance of finding out what it really means by reading Paul Muldoon.[/private]