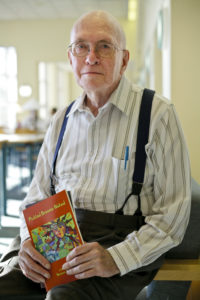 In a review copy of Norman Stock's new collection, Pickled Dreams Naked (NYQ Books), we came across the first honest poem we've ever read about poetry readings. Poetasters, prepare yourselves.
At a Boring Poetry Reading

They read the audience to death.

These poets use live ammunition, their words, to weaken us.

Are they trying to put us to sleep or are they trying to keep themselves up

by droning on and on? Instead of listening, all I'm doing is waiting for them to stop.

The applause will be like glass breaking, the glass they are enclosing us in.

It is as if they tied their shoes in front of us just to show us they could tie their shoes in front of us!

O save me from this scatterbrain orderliness, this posture of beheading.

Will this reading never end? Will I have to listen forever

or can I find a chink in the wall of my own mind that I can crawl into, just to get

away from this disaster, this dying, this voicelessness?
We congratulate Mr. Stock on this brave display of honesty. He has spoken for an entire class of victimized people in America: the audience. He has become the voice for a silent and suffering majority.
The editors of the CPR would like to encourage other poets to come forward, out of the shadows, and man the barricades alongside the heroic Mr. Stock. Please send along your poems on the subject! Please encourage others to write poems on the subject! Please write one if you don't have one!
We promise to read them, we promise to publish the best ones, we promise to edit an anthology of them all, and we promise to start a movement if we can. We say: down with the poetry reading! We say: topple the lectern! We say: hide the microphone!
Who is with us?