Thieves of Paradise by Yusef Komunyakaa. Wesleyan/ University Press of New England, 1998. 130 pp. $19.95 (hardcover)
Talking Dirty to the Gods by Yusef Komunyakaa. Farrar, Strauss & Giroux, 2000. 134 pp. $23 (hardcover)
As Reviewed By: Ethan Paquin
"Memory's broken skull lingers / On every corner," relates Yusef Komunyakaa in his latest work, but the means with which the celebrated poet picks up the shards in these consecutive books are markedly different. Thieves of Paradise confronts readers not only with difficult, eye-slowing syntax but sections varying in form ("Quatrains for Ishi," prose poems, the long dramatic monologue of "Testimony") and scope (a conversation during sex, scenes from Ia Drang Valley, and the ghetto with its crack, "jive…/ & Dolemite"). Komunyakaa seemed to glory in playing the part of Anubis, embalming and forever preserving in its dark ugliness much of Vietnam-era America, rife with alienation and ghosts, "some monolithic god…fallen to his / knees."[private]
We sense a more procreative poet in Talking Dirty to the Gods, where Komunyakaa conceives a new universe and speaks it into existence, a modern-day Ptah brightening our ordinary existence by turning the banal into the extraordinary ("It lives on the imagination / Of all-night ghosts, like the worm / Brought forth from the feminine / Temples of wood & apple" from "Ode to Dust") with keen observation and tightly wrought, four-quatrain poems.
My critical mytho-speak is well founded. Both volumes hearken to old myths and make new ones; as H.D. did for women in her trilogy, Komunyakaa does to some extent for African-Americans in these two books. Witness, in particular, the working-class hero in "No-Good Blues" (from Thieves), a blue-collar cabinet-maker who also happens to, perhaps unexpectedly in the stereotype-beholden minds of many readers, "try to hide in Proust, / Mallarme," Baudelaire, Appolinaire and Monet. Komunyakaa integrates into African-American myth the intellectualism inherent in its community throughout many generations, which has been buried beneath so many years of pastoral, "backwoodsy" work by the likes of Alice Walker and Toni Morrison. Komunyakaa seeks to flesh out once and for all Ellison's invisible man.
Millennial mythmaking continues in Talking Dirty to the Gods, whose cover even is endowed with an illustration of a deity carrying a giant odos; only this time, Komunyakaa speaks for all of humanity, semi-chronologically following its development (or dessication, depending on whether Camus or Sartre is reading), seeking to bring to the table of history-writers the Poet, ever forgotten by those who will "see if beauty balances the ugly." Beginning with "Homo Erectus," the maggot, slime molds and nipples, and ending with "Toxic Waste," Stalin and "Philosophers, Incorporated," Komunyakaa's catalogue is always varied, each item treated as it's never been before: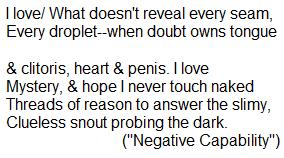 L
ike the figure on the book's cover, it's as if Komunyakaa signals he too is coming, bearing divine gifts, alternately meant to instruct and delight us.
Komunyakaa's difficult syntactical maneuvers (Thieves) and his formal dexterity (Talking) are to be appreciated; both allow him to approach wide-as-the-world (and well-traveled) subject matter–Nature, the divine, anti/history–as if each were an intimate acquaintance. There is a quiet, reverent feel to these volumes, and most importantly a sui generis to his work: we know, after reading these collections, that the world has never been viewed through these lenses before. For this we are thankful and enlightened.[/private]